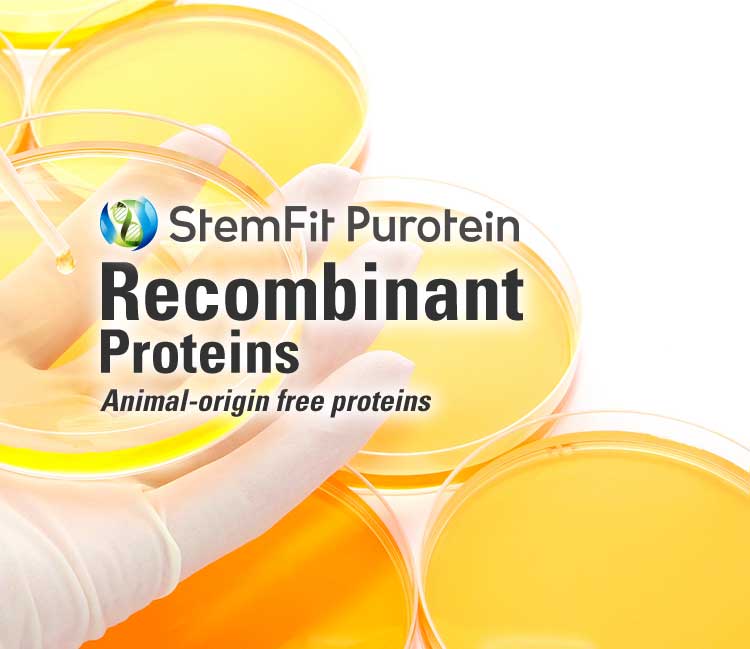 — Product Size —
Non GMP
10 μg (0.1 mg/ml, 100 μl)
SP-KGF-R-010UG
50 μg (0.1 mg/ml, 500 μl)
SP-KGF-R-050UG
1 mg (0.1 mg/ml, 10 ml)
SP-KGF-R-001MG
Benefits
Significant cost reduction of cell
manufacturing processes
Seamless transition from basic research
to clinical applications
PAGE TOP
— Product Details —
NAME
Recombinant Human KGF (FGF-7)
SOURCE
Corynebacterium glutamicum*
FORMULATION
Frozen in DPBS(-) containing 1.5mM DTT and 100mM Na2SO4
Quality
Animal origin free
AA Sequence:
CNDMTPEQMA TNVNCSSPER HTRSYDYMEG GDIRVRRLFC RTQWYLRIDK
RGKVKGTQEM KNNYNIMEIR TVAVGIVAIK GVESEFYLAM NKEGKLYAKK
ECNEDCNFKE LILENHYNTY ASAKWTHNGG EMFVALNQKG IPVRGKKTKK
EQKTAHFLPM AIT
Purity:
≥ 95% by SDS-PAGE
Endotoxin
<0.1EU/ug
Description:
Keratinocyte Growth Factor (KGF) is one of 23 known members of the FGF family,
and it is known as FGF-7. Proteins of this family play a central role during prenatal development,
postnatal growth, and the regeneration of a variety of tissues, by promoting cellular proliferation and differentiation. KGF is a mitogen factor specific for epithelial cells and keratinocytes. Recombinant Human KGF is an 18.9 kDa protein consisting of 163 amino acid residues.
*Corynebacterium glutamicum
• Discovered in 1957 as a glutamate producer
• Fast growing soil bacterium
• Gram-positive
• Non-sporulating
• Non-pathogenic
• Non-endotoxic
• FDA approved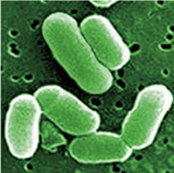 < Features >
Secretion System
No Endotoxin
Less Derivatives (impurities)
Experience: Food Amino Acid Production
Ideal platform for low-cost, high-grade proteins production with high lot-to-lot consistency.
PAGE TOP
— Product Comparison Table —
AJINOMOTO
Company A
Company B
Host cell

C. glutamicum

E. coli
E. coli
Endotoxin
<

0.1EU/μg


(LAL)
<1EU/μg
(LAL)
<0.10EU/μg
(LAL)
Purity
≧

95%


(SDS-PAGE)
≧95%
(SDS-PAGE、HPLC)
>97%
(SDS-PAGE)
Biological
activity
EC50, 0.1-30 ng/mL*1
ED50, ≦10 ng/ml*2
ED50, 6-60 ng/ml*3
Form

Frozen


in DPBS(-) containing
1.5 mM DTT, 100 mM Na2SO4
Lyophilized
Lyophilized
N-terminal

Cys-Asn

Met-Cys-Asn
Met-Cys-Asn
Expiration date
2 years from
manufacturing date
At least 4 years from
manufacturing date
12 months from
date of receipt
*1 ERK1/2 phosphorylation assay using MCF-7 cells
*2 Dose-dependent ability to reduce tetrazolium salt, WST-8,
by dehydrogenase activities of BaF3 cells expressing FGF receptors
*3 Cell proliferation assay using 4MBr‑5 rhesus monkey epithelial cells
〈 Comparison of biological activity with other companies' products 〉
Phosphorylation of ERK1/2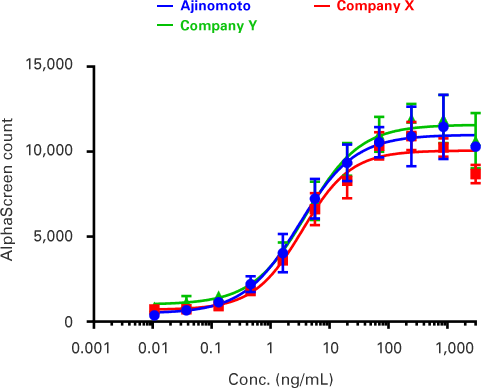 AJINOMOTO's KGF demonstrates equal biological
activity compared to tested alternatives!
〈 Stability information after reconstitution 〉
AJINOMOTO
Company A
Company B
-80°C

2 years


from manufacturing date
3 months from
reconstitution date
3 months from
reconstitution date
Freeze-thaw
cycles
Within

3 times

ー
ー
For more information, please contact us.

AJINOMOTO CO., INC. AminoScience Division
15-1, Kyobashi 1-Chome, Chuo-Ku, Tokyo 104-8315, Japan