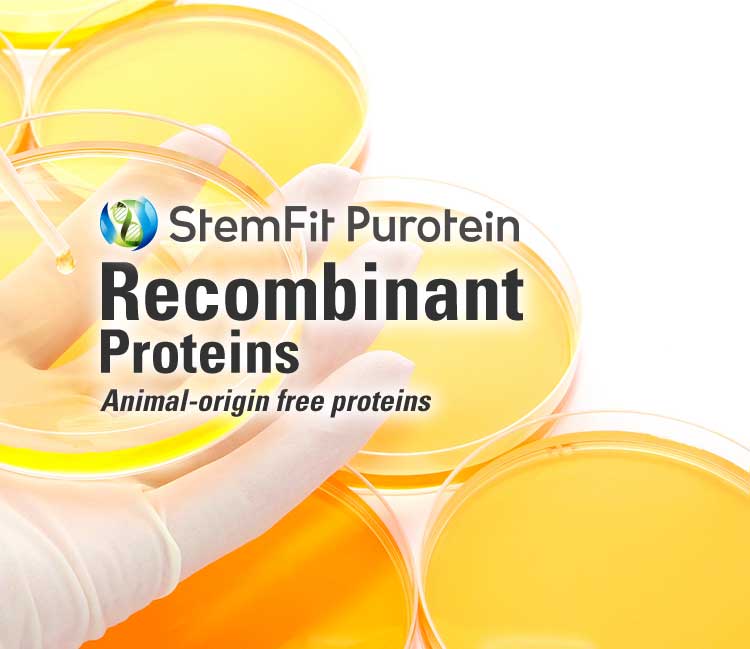 — Product Size —
Non GMP
10 μg (0.1 mg/ml, 100 μl)
SP-SCF-R-010UG
50 μg (0.1 mg/ml, 500 μl)
SP-SCF-R-050UG
1 mg (0.1 mg/ml, 10 ml)
SP-SCF-R-001MG
Benefits
Significant cost reduction of cell
manufacturing processes
Seamless transition from basic research
to clinical applications
PAGE TOP
— Product Details —
NAME
Recombinant Human SCF
SOURCE
Corynebacterium glutamicum*
FORMULATION
Frozen in 20 mM HEPES
Quality
Animal origin free
AA Sequence:
EGICRNRVTN NVKDVTKLVA NLPKDYMITL KYVPGMDVLP SHCWISEMVV
QLSDSLTDLL DKFSNISEGL SNYSIIDKLV NIVDDLVECV KENSSKDLKK
SFKSPEPRLF TPEEFFRIFN RSIDAFKDFV VASETSDCVV SSTLSPEKDS
RVSVTKPFML PPVA
Purity:
≥ 95% by SDS-PAGE
Endotoxin
<0.1EU/ug
Description:
SCF (stem cell factor) is a growth factor secreted from fibroblasts and endothelial cells. SCF binds to a receptor known as c-Kit and is thought to play an important role in the survival, proliferation and differentiation of hematopoietic stem cells. Recombinant Human SCF is an 18.5 kDa polypeptide containing 164 amino acid residues, which corresponds to the sequence of the secreted soluble form of SCF.
*Corynebacterium glutamicum
• Discovered in 1957 as a glutamate producer
• Fast growing soil bacterium
• Gram-positive
• Non-sporulating
• Non-pathogenic
• Non-endotoxic
• FDA approved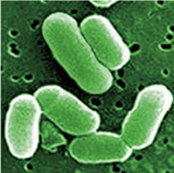 < Features >
Secretion System
No Endotoxin
Less Derivatives (impurities)
Experience: Food Amino Acid Production
Ideal platform for low-cost, high-grade proteins production with high lot-to-lot consistency.
PAGE TOP
— Product Comparison Table —
AJINOMOTO
Company A
Company B
Company C
Host cell

C. glutamicum

E. coli
E. coli
E. coli
Endotoxin
<

0.1EU/μg


(LAL)
<1EU/μg
(LAL)
<1.0EU/μg
(LAL)
<1EU/μg
(LAL)
Purity
≧

95%


(SDS-PAGE)
≧98%
(SDS-PAGE、HPLC)
>97%
(SDS-PAGE)
>97%
(SDS-PAGE)
Biological
activity
EC50, 1.0-20 ng/mL*1
ED50, ≦2.0 ng/ml*2
ED50, ≦1-5 ng/ml*2
ED50, ≦5 ng/ml*2
Form

Frozen


(in 20mM HEPES)
Lyophilized
Lyophilized
Lyophilized
N-terminal

Glu-Gly-Ile

ー
Met
ー
Expiration date
3 years from
manufacturing date
ー
12 months from
date of receipt
ー
As of 2021 Oct.
*1 Phosphorylation assay of c-KIT
*2 Cell proliferation assay using TF‑1 human erythroleukemic cells
〈 Comparison of biological activity with other companies' products 〉
Phosphorylation assay of c-KIT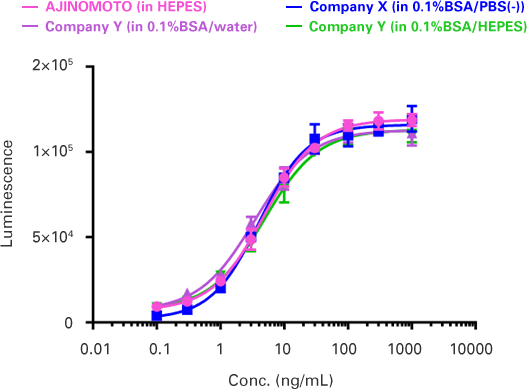 AJINOMOTO's SCF demonstrates equal to biological
activity compared to tested alternatives!
〈 Stability information after reconstitution 〉
AJINOMOTO
Company A
Company B
-80°C

3 years


from manufacturing date
1 year from
reconstitution date
3 months from
reconstitution date
4°C
At least 1 month*
1 month from
reconstitution date
1 month from
reconstitution date
Freeze-thaw cycles
Within 3 times*
ー
ー
As of 2021 Oct.
* We do not guarantee the product quality.
For more information, please contact us.

AJINOMOTO CO., INC. AminoScience Division
15-1, Kyobashi 1-Chome, Chuo-Ku, Tokyo 104-8315, Japan