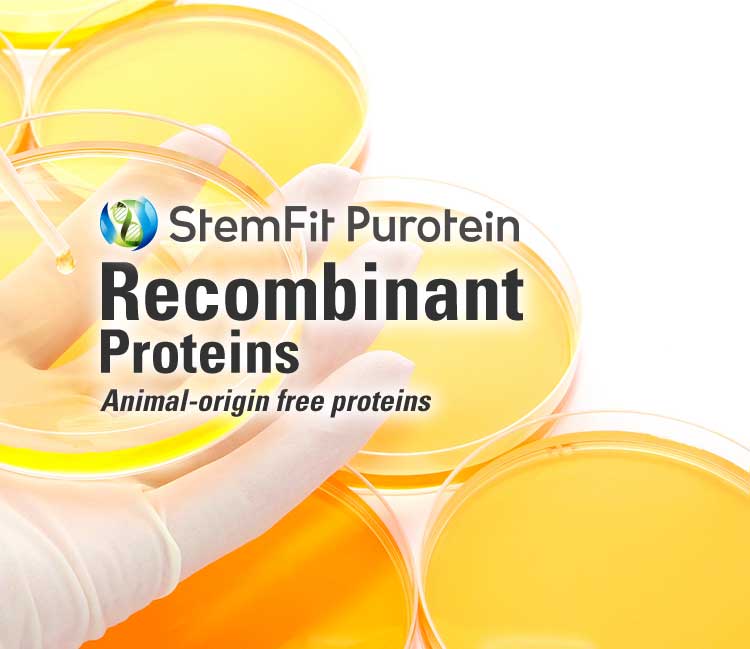 PAGE TOP
— Product Size —
GMP compliant
1 mg (0.3 mg/ml)
SP-FGF2-G-001MG
Benefits
Significant cost reduction of cell
manufacturing processes
Seamless transition from basic research
to clinical applications
— Product Details —
NAME
Human bFGF recombinant
SOURCE
Corynebacterium glutamicum
FORMULATION
Frozen in PBS buffer containing 1 mM DTT
Quality
Animal Origin free *Produced in compliance with GMP.
AA Sequence:
AAGSITTLPA LPEDGGSGAF PPGHFKDPKR LYCKNGGFFL RIHPDGRVDG
VREKSDPHIK LQLQAEERGV VSIKGVCANR YLAMKEDGRL LASKCVTDEC
FFFERLESNN YNTYRSRKYT SWYVALKRTG QYKLGSKTGP GQKAILFLPM
SAKS
Purity:
≥ 95% by SDS-PAGE
Endotoxin
<1EU/ug
Description:
FGF basic (bFGF) is a member of the FGF family of cytokines and is involved in a wide range of biological processes including proliferation of many type of cells, neuron differentiation and maintenance of pluripotent state. bFGF is mainly used for stem cell cultivation in order to expand pluripotent stem cells or mesenchymal stem cells. Human bFGF recombinant is a 17.1 kDa, containing 154 amino acid residues.
For more information, please contact us.

AJINOMOTO CO., INC. AminoScience Division
15-1, Kyobashi 1-Chome, Chuo-Ku, Tokyo 104-8315, Japan