As a core trading company of the Ajinomoto Group
As a core trading company of the Ajinomoto Group, we provide our customers with a high added-value service. This includes reliable preparation of export documents created by an experienced expert group with abundant knowledge, establishing complex logistics structures that respond to multilateral trade or various risks, including supply and demand management, and import tariff reduction proposals for each country utilizing international economic partnerships and free trade agreements (EPA, FTA).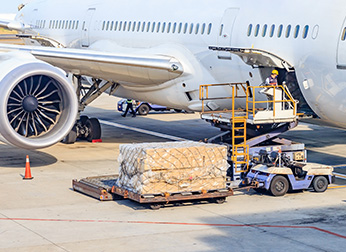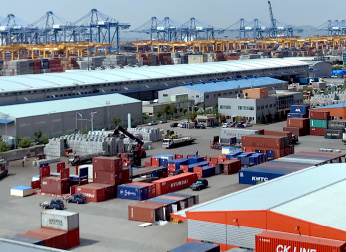 Reliable business practice operations
With over forty years of history as an export agency business in the Ajinomoto Group, we provide logistics operations coordinated by expert groups with abundant knowledge and experience relating to trade-related laws and general logistics and prepare export documents compatible with laws and regulations around the world to offer our customers safety and security when dealing with complex international logistics.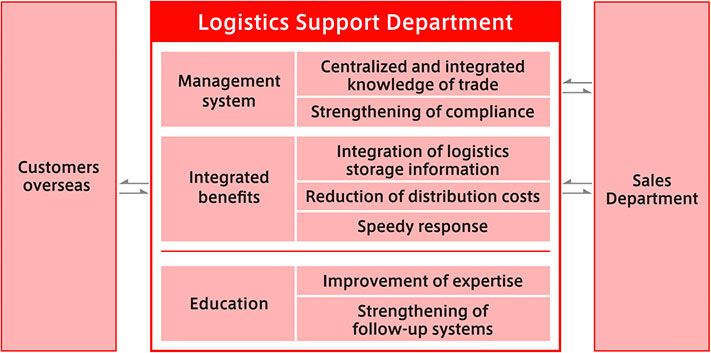 Trade scheme with high added value
We form high added-value trade schemes in response to the various risks involved in complex international transactions, such as a multilateral high-level logistics and delivery system including supply and demand management, international contracts and payment settlement, exchange risk hedging, and credit management that utilizes trade insurance. We also propose optimal transportation routes and methods that match the characteristics of products and raw materials, based on our experience in handling a wide range of products outside of the food industry, such as raw pharmaceutical materials, and chemical products and substances.
Safe and secure trade management structure
We have established a trade management system based on the AEO (Authorized Economic Operator) program, and a structure compliant with related laws and regulations based on a quality assurance system supported by the Ajinomoto Quality Assurance System "ASQUA."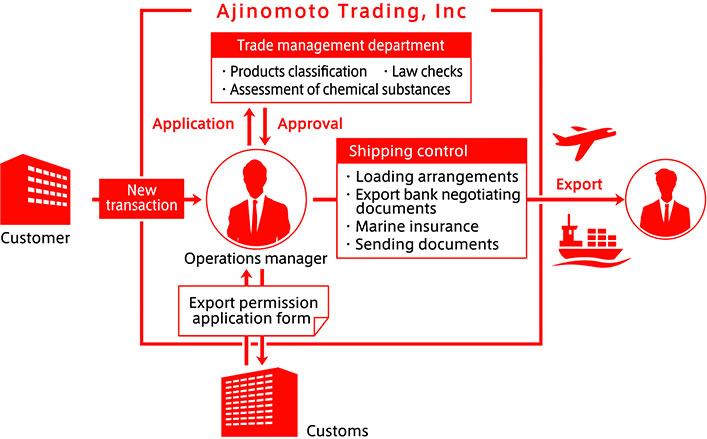 Contact relevant department