Product Information : StemFit Basic03
StemFit Basic03 is an animal-origin free, defined medium for human pluripotent stem cell culture. This medium is capable of reprogramming, maintaining and differentiating human ES and iPS cells under feeder-free culture conditions.
Materials Provided1
| | | |
| --- | --- | --- |
| Component | Volume | Storage |
| Liquid A | 400ml | Store at below -20 °C |
| Liquid B | 100ml | Store at below -20 °C |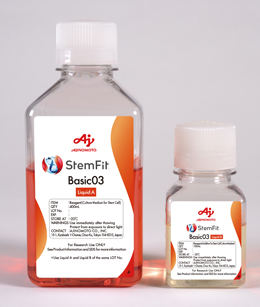 Media Preparation
StemFit Basic03 is provided frozen as a 2 component set containing "Liquid A" and "Liquid B" and can be stored at below -20 °C until use. Use sterile techniques to prepare StemFit Basic03 medium.
1) Before use, thaw the frozen "Liquid A" and "Liquid B" with occasionally mixing at room temperature (15-25 °C). 2
2) Aseptically mix medium components by adding the full volume of "Liquid B" to "Liquid A". Mix thoroughly. If prepared aseptically, StemFit Basic03 is ready for use.
3) Upon thawing, StemFit Basic03 medium may be aseptically aliquoted and stored at below -20 °C.34
4) Before use, warm aliquots to room temperature and use immediately.

This product does not contain basic fibroblast growth factor (bFGF)

Do not thaw, "Liquid B" at 37 °C, as it accelerates the degradation of medium ingredients.

Thawed StemFit Basic03 medium may be stored at 2-8 °C for up to two weeks.

We recommend storing the medium protected from light
Precaution and Disclaimer
StemFit Basic03 is for research use only and is not for diagnostic use, therapeutic use (including clinical research), or as a food.
For Research Use Only. Not Intended For Human or Animal Diagnostic or Therapeutic Uses
Download

Product Information (PDF [268kB])

SDS (PDF [520kB] )
For further information, please contact here.
15-1, Kyobashi 1-Chome, Chuo-Ku, Tokyo 104-8315, Japan